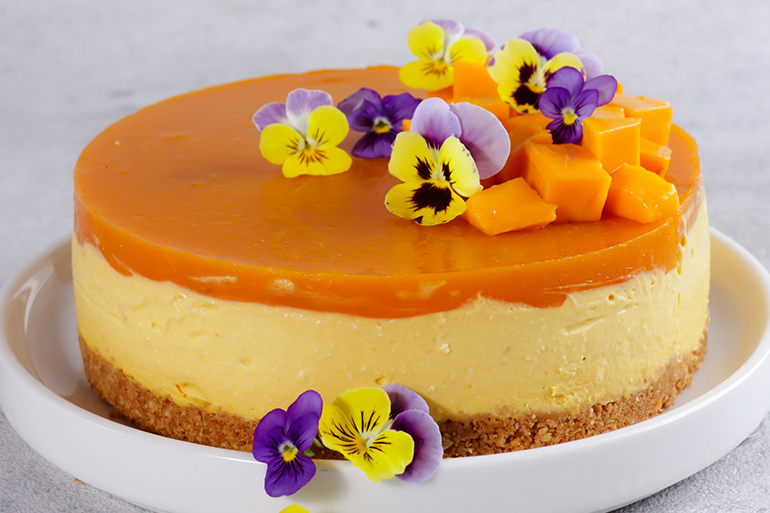 Mango Bhapa Doi Cheese Cake
Recipe created by Chef Praveen
Recipe Ingredients
For the Base:
| | |
| --- | --- |
| Graham Cracker Mix | 1 pouch |
| Crushed and powdered digestive biscuits | 10 |
| Butter | 3 tbsps |
| Cinnamon Powder | ½ tsp |
For the Mango Bhapa Doi
| | |
| --- | --- |
| Yoghurt | 490 g |
| Mango Puree | 100 g |
| Milk Maid | 150 g |
| Cardamom Powder | 1 tsp |
Preparation
For the base:
In a food processor, add all the ingredients for the base and mix till they resemble bread crumbs.
Take out the base mix into the pre-greased spring form pan/ tart pan.
Use the back of a spoon and spread the mix evenly on the pan to form a layer.
For the Mango Bhapa Doi:
In a mixing bowl, take all the ingredients for the bhapa doi and mix till they combine well.
Now, carefully pour the bhapa doi mix over the graham cracker base and spread it evenly.
Gently tap the cake pan on the counter to spread the batter evenly and release any bubbles trapped in the bhapa doi mix.
Cover the cake tin with an aluminium foil.
Use the double boiling method in the oven.
Bake at 150°C
Bake for 15 to 18 mins.
Once done, remove the cake tin out of the steamer and let it sit on the counter till it cools down.
Refrigerate the cheesecake for at least an hour before serving.
Garnish with chopped pistachios or with chocolate.
Other Recipes You Might Like