The atmosphere of a place is made up of the complete experience of visiting it, enjoying its food, interiors, sometimes music, interaction with staff members, and so on. The majority of bakeries place a priority on atmosphere because it encourages repeat business, customer loyalty, and word-of-mouth referrals.
The Product
Mood can be influenced by food. It's sometimes more important to look at food than it is to eat it. For customers, the perfect presentation offers a profound level of delight and enjoyment. Make sure your display cases, shelves, and baskets are stocked with baked goods and other food items. There's nothing more disheartening than walking into a bakery where the stock has run out. Because a bakery has the advantage of selling food that is already attractive, colourful, and delicious, make sure you make most of this to market your products. To promote spontaneous purchases, have attractive heaps of cookies, small pieces of cake, or pastries by the cash register. Trying a product is the best way to convince yourself to buy it. Take the opportunity to bake a treat, and place it near the point of sale so that consumers can try it while deciding what to take home. It's one of those small gestures that will be much appreciated by the customer. You could also have some samples for new desserts that you may want to add to your menu in the future.
The Service
This is a key component that aids in the creation of a positive client experience. A bakery is a service-based business. It cannot survive without good service. When bakeries provide a modest seating area where customers can sit and eat their food, you build a strong space for a good rapport. The finest atmosphere is created by employees who are courteous, well-mannered, and treat clients with respect. Another important factor to consider is customer-employee communication. Greeting customers with a smile and asking how they are doing are always appreciated as nice gestures. After a sale, being nice and wishing them a good day can have a huge impact on the customer's experience. Try and get a feedback from your customers while they are there. Don't keep them waiting. Have all kinds of payment options so that you don't upset any customer by making them wait. You also need to train your team from time to time with the upcoming trends in the market as well as customer behavior. For ex. Many customers have specific vegan or vegetarian needs, every employee must know about what you have to offer. No employee must be on a different page from the running and the vision of the business.
The Aroma
Do you remember walking past your favourite bakery as a child? Didn't it feel so good? Why not give that feeling to everyone who walks past your bakery then? Aroma is the best way to attract customers. Leave your bakery door open whenever time permits, and make sure that the pleasant aroma attracts people passing by to linger, check in and ask you about it. Customers will find it difficult to ignore the aroma of bread baking in an oven, which immediately evokes feelings of comfort and freshness. Coffee, chocolate, breads, cupcakes, these are smells no one can ignore! So keep up the good work and keep those doors open at times!
The Music
Playing music that matches the vibe of the bakery is the most pleasing thing ever. Generally, you should feature soothing, upbeat, positive music to your customers. But, the volume should also not bother those who enjoy spending peaceful time working or reading. The level of music that's okay to be heard by the colleagues of you customer on a conference call is perfect! You could consider subscribing to satellite radio or streaming music via a web or mobile app if you have less understanding of music or don't have time to create playlists.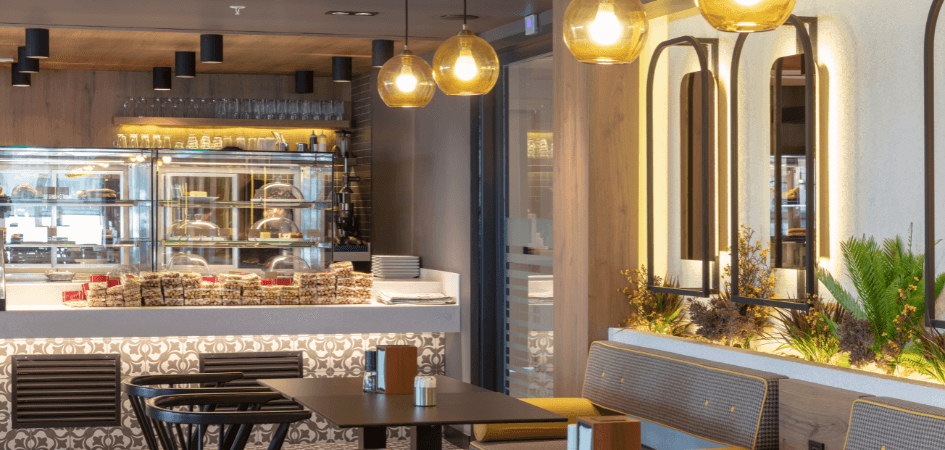 The Lighting
Appropriate lighting creates a vibrant atmosphere. The way you light your bakery will have a significant impact on the vibe and mood of your customers. Remember, that everyone comes to the bakery for a boost of dopamine, celebration and of course the taste and smells. The right light can really push up your preference in the customer's mind. You also deal with a lot of celebration dishes in a bakery. This means that customers must have the same amount of passion and excitement inside your bakery as they did before entering. This can be accomplished by using appropriate, and preferably brighter lighting. Spotlights on specific food items will add to the feel of the bakery! Like they say, keep it light and fun!
The Ambience
A pleasant ambience emits a lot of positive energy. This translates into unique customer experiences. People's emotions are evoked when they visit areas with such a magnetic atmosphere. Customers are unlikely to visit any other bakery after they have developed an emotional attachment to yours. This is the kind of loyalty that can be generated by variables such as a pleasant environment. The wall textures and colour also impact this. The placement of the billing counter, distance between showcases, and how high up items are placed also adds to the overall effect of your baker. Ensure that the seating are is well spaced. You could try a bar stool seating area for the quick eaters!